The Sleep Doctor independently selects the products we test. We may earn a commission if you make a purchase using the links on our site.
Common in luxury hotel bedding, percale sheets are a popular option among many sleepers. Percale is a traditional weave that resembles a criss-cross pattern. Sheets that use this weave can contain several different types of fiber, such as cotton and rayon.
Sheets made with a percale weave have a crisp and smooth feel. The tight stitching enhances the sheets' durability, while the lightweight construction promotes cooling airflow.
We'll explore what percale sheets are, the difference between percale and sateen weaves, the pros and cons of percale, and the varieties of cotton percale sheets. We'll also share our top picks for the best percale sheets across several popular categories.
Brooklinen Classic Core Sheet Set
270 thread count
Available in several colors and patterns
Generous 365-day return policy
Hot sleepers
Those who want multiple color and pattern options
Sleepers who enjoy crisp, hotel-style sheets
Made from long-staple cotton, the Brooklinen Classic Core Sheet Set envelops sleepers in crisp and cool comfort.
The sheets have a thread count of 270. This is within the ideal range for percale sheets, balancing airflow and softness. The set is OEKO-TEX Standard 100 certified, meaning a third-party test institute has verified that it is free of many harmful substances. The fitted sheet has long and short side labels to simplify the bed-making process, and the pillowcases feature envelope closures to prevent the pillow from shifting during the night.
We found that the sheet set's breathable thread count, weave, and material provided good temperature regulation. Our testers also noted that the sheets felt smooth to the touch. Given the construction, we expect this set to be durable, getting softer with each wash.
The Brooklinen Classic Core Sheet Set includes one flat sheet, one fitted sheet, and two pillowcases. It is available in the six standard sizes. Individual pieces are also sold separately in case you need a replacement component or prefer to mix and match styles. Shoppers can select between several colors and patterns, including limited-edition options.
While many sheet sets are not returnable, Brooklinen offers a 365-day return policy along with an additional one-year warranty.
The Brooklinen Classic Core Sheet Set's breathable construction, convenient features, and generous return policy make it a great fit for a variety of sleepers, especially those who sleep hot.
Quince Organic Cotton Percale Sheet Set
Available in nine colors and five sizes
Made using environmentally conscious practices
Long-staple cotton gets softer with each wash
Shoppers looking for high-quality sheets at an accessible price-point
Eco-conscious shoppers
Those who sleep hot
Despite its accessible price-point, the Quince Organic Cotton Percale Sheet Set is of high quality and uses responsible manufacturing processes. This may be the ideal combination for eco-conscious shoppers on a budget.
The set is made of long-staple cotton in a percale weave that balances breathability, durability, and smoothness. The fitted sheet accommodates mattresses up to 16 inches thick, and it has top and bottom labels on the sides.
The Quince Organic Cotton Percale Sheet Set holds OEKO-TEX Standard 100 certification to verify that it meets safety standards. The manufacturing process limits the environmental impact by using energy from windmills, purifying water through reverse osmosis, and avoiding chemical pesticides, toxins, and GMOs.
Our product testing team concluded that the sheets excelled in nearly every performance category, including durability, temperature regulation, and comfort. They felt smooth, crisp, and cool to our testers, and based on their construction, we anticipate that they will last longer than most percale sheet sets.
Full, queen, king, and California king sizes come with a fitted sheet, a flat sheet, and two pillowcases. The full and queen sizes include standard pillowcases, whereas the king sizes provide king pillowcases. The twin set includes a fitted sheet, a flat sheet, and one standard pillowcase. Quince also offers a different version of the set that omits the flat sheet. Sets are available in nine colors. Quince provides free shipping and a 365-day return policy.
We found that the Quince Organic Cotton Percale Sheet Set performed across categories, making it a good choice for a wide variety of sleepers. Given its budget-conscious price-point and environmental initiatives, the set may particularly appeal to shoppers who value both sustainability and affordability.
Prewashed for softness
Available in three colors and seven sizes
Includes a 45-day return window and a one-year limited warranty
Those who prefer a lived-in feel
Shoppers looking to replicate a luxury hotel experience
Hot sleepers
The set is made with long-staple cotton and has a 200 thread count. The fitted sheet features a deep pocket for mattresses up to 16 inches in height, and each set is prewashed for lived-in softness.
We found that the combination of percale weave and long-staple cotton creates a smooth yet breathable sheet set. While the set retains the crispness associated with the percale weave, our testers also reported that the prewashing gives it an especially soft, supple feel. The breathable material retained very little heat in our temperature regulation tests.
The set is machine-washable in cold water on the gentle cycle. Saatva recommends washing these sheets with similar colors to avoid color transfer.
The Saatva Percale Sheet Set is available in seven sizes ranging from twin to split king. There are also three color options: white, ivory, and gray. Most sets contain a fitted sheet, a flat sheet, and two pillowcases. However, the split king set comes with two twin XL fitted sheets, and the twin and twin XL sizes include only one pillowcase. Customers are eligible for free shipping, a 45-day return policy, and a one-year limited warranty.
We found that the Saatva Percale Sheet Set is a breathable, luxurious option. The high-quality construction makes these sheets both comfortable and likely to last longer than the average percale sheet set.
Boll & Branch Percale Hemmed Sheet Set
GOTS-certified organic cotton
17-inch fitted sheet pocket accommodates most mattresses
Six color options
Sleepers who prioritize manufacturers with sustainable practices
Those with a high-profile mattress
Shoppers who value durability
Crafted using environmentally friendly processes, the Boll & Branch Percale Hemmed Sheet Set is exceptionally soft and smooth, thanks to its high-quality materials.
The set is made with GOTS-certified organic long-staple cotton, and sustainable practices are used throughout the cultivation and manufacturing process. This includes relying on natural pest repellents, using potato starch as a fiber strengthener, and applying GOTS-approved dyes.
We found that the Boll & Branch Percale Hemmed Sheet Set feels quite smooth and comfortable. Ample airflow through the sheets also kept our testers cool. Given the quality of the materials, we expect this set to have an especially long lifespan.
You can wash the sheets in cold water on a gentle cycle with like colors. Since the set does not use chemical sizing agents, the sheets might shrink a bit with washing. However, they are initially slightly oversized to account for this.
The set comes in six colors. Eight size options are also available, including the six standard sizes, split king, and king, all with standard pillowcases. Larger size options generally include one flat sheet, one fitted sheet, and two pillowcases. The twin and twin XL sizes include one pillowcase, while the split king includes two twin XL fitted sheets. Sets arrive in a reusable gift box. Each purchase also includes a 30-day trial and free shipping in the contiguous U.S.
Our testers enjoyed the Boll & Branch Percale Hemmed Sheet Set's supremely smooth texture and crisp feel. We recommend the set for shoppers who want a comfortable sheet option that also sleeps cool.
Molecule Percale Performance Sheets
Blends cotton and Tencel lyocell
Breathable and moisture-wicking
300 thread count
Those prone to sweating at night
Shoppers looking to avoid easily wrinkled sheets
Sleepers with sensitive skin
The Molecule Percale Performance Sheets are designed for hot sleepers, featuring breathable and moisture-wicking materials.
The set is made of 52% long-staple cotton and 48% Tencel lyocell with a thread count of 300. Derived from eucalyptus wood pulp, Tencel lyocell absorbs moisture without restricting airflow. The fabric is soft and wrinkle-resistant.
The fitted sheet in this set has a 15-inch depth, which accommodates mattresses up to 14 inches thick. The set is also OEKO-TEX certified, which means it has been tested and found free of many common harmful chemicals.
We found that the combination of cotton and Tencel in the Molecule Percale Performance Sheets enhanced temperature regulation. The smooth surface also was gentle enough for our team members with sensitive skin.
The sheets are machine-washable in cold water on a gentle cycle. They should be washed separately from other laundry. While they may shrink slightly in the first wash cycle, they should still fit the mattress well.
The Molecule Percale Performance Sheets are available in four colors and six standard sizes. Each set comes with a flat sheet, a fitted sheet, and one or two pillowcases. All purchases include a 30-night sleep trial.
Overall, our testing team found that the Molecule Percale Performance Sheets were comfortable and cool, making them ideal for hot sleepers who would benefit from breathability and notable moisture control.
Cloverlane Percale Sheet Set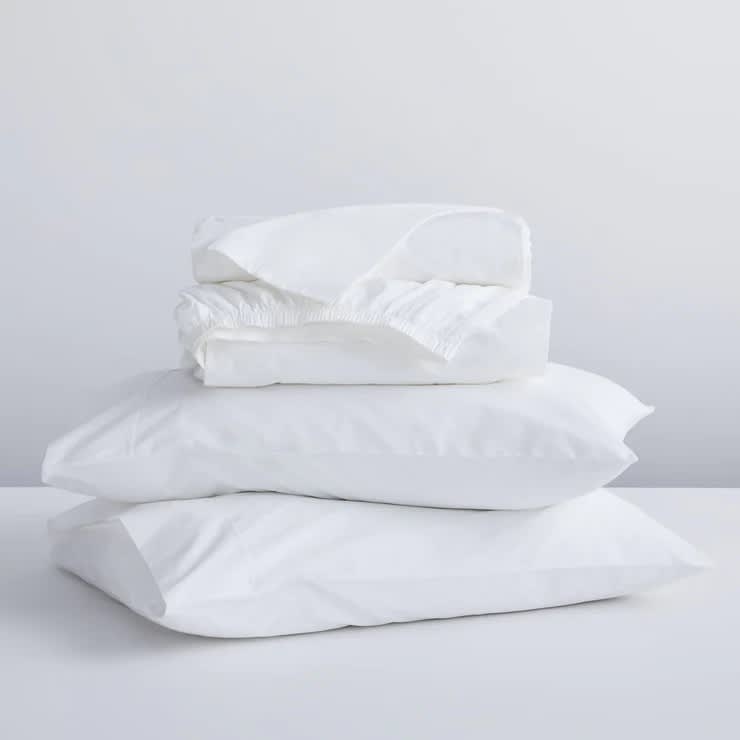 Fits mattresses up to 18 inches thick
Contains antimicrobial technology
365-night trial period
Shoppers who want extra time to try the sheets
Those with high-profile mattresses
Shoppers who want to simplify the bed-making process
The Cloverlane Percale Sheet Set is breathable enough to use throughout the summer months, but it also pairs well with a duvet or blanket for winter coziness.
The Cloverlane Percale Sheet Set is made with long-staple cotton and has a thread count of 300. The fitted sheet accommodates mattresses up to 18 inches thick and includes head and foot labels for ease during bed making. Envelope closures on the pillowcases help the pillows stay put and add a polished look. Cloverlane also incorporates antimicrobial technology designed to prevent microbial growth and odors. The sheet set is OEKO-TEX Standard 100 certified free of many common toxic substances.
During testing, we found that the sheet set offered a great balance of breathability and coziness for all-season temperature regulation. While the sheets have the light, crisp feel that percale weave is known for, our testers reported that the 300 thread count felt more substantial than some sets on the market.
The Cloverlane Percale Sheet Set is machine-washable in warm water on the gentle cycle with like colors. It comes in three colors and six standard sizes. The set includes one fitted sheet, one flat sheet, and either one or two standard or king pillowcases, depending on the size. All purchases include a 365-night trial. Free shipping is also available within the contiguous U.S.
We found that the Cloverlane Percale Sheet Set is ideal for year-round use due to its convenient design and strong temperature regulation. And with a generous 365-night sleep trial, sleepers can try the set in all seasons.
Why You Should Trust Us
Our product testers have many years of experience in the sleep product industry, making them experts on bedding. When we test sheets, we collect both objective and subjective data in a variety of areas, including temperature regulation, durability, ease of cleaning, comfort, and fit. We then use these findings to compile a list of our top picks across categories and help you find a percale sheet set that meets your needs.
Percale sheets use a simple yet tight criss-cross weave pattern that creates a soft, smooth texture often compared to a dress shirt. The resulting fabric has a crisp, cool feel ideal for hot climates and often associated with luxury hotel bedding.
The term percale refers to the sheet's weave rather than a material itself. This plain weave uses a one-over-one-under pattern.
Many manufacturers refer to percale sheets as cotton percale because cotton is the most common material used with the weave. However, some manufacturers use other materials, such as polyester, microfiber, or rayon from bamboo.
Percale sheets are widely available with options at virtually every price-point.
Percale and Sateen Sheets, What's the Difference?
The two most common types of weaves used in sheets are percale and sateen. Although both can use the same material, the differences between the weaves result in distinct looks and feels. A percale weave uses a one-over, one-under pattern. In contrast, a sateen weave follows a one-under, three- to four-over pattern.
Percale
The percale weave results in sheets with a matte finish, a lightweight and crisp feel, and greater breathability. This makes percale sheets optimal for hot sleepers and summer months. Percale sheets typically get softer with each wash.
Sateen
Sateen sheets have a luminous look with a silk-like texture. A sateen weave is thicker and more tightly woven than a percale weave, resulting in heavier and warmer sheets fit for cool sleepers and winter months. While sateen sheets resist wrinkles and drape well, they may also pill or snag over time.
Sleepers may prefer percale sheets due to their temperature regulation, wide availability, and notable durability. The weave's breathability and lightweight feel appeal to hot sleepers and those who live in warm climates. Percale sheets are easy to find in virtually any store that sells bedding, and they range in price from budget-friendly to high-end. Additionally, percale sheets are not prone to pilling. In fact, they typically get softer with increased usage and laundering, making them a durable option.
Pros and Cons of Percale Sheets
Every sleeper has different needs and preferences when it comes to sheets. You should consider the potential pros and cons of percale sheets when choosing the best sheets for your needs.
Crisp, smooth feel
Breathable and lightweight for superior temperature regulation
Will get softer with each wash
Prone to wrinkling
Do not provide much insulation for cold sleepers
Not as soft as sateen sheets
What to Expect from Percale Sheets
When deciding if percale sheets are right for you, it can be helpful to consider the characteristics typically associated with the weave.
| Percale Sheets Characteristics | Description |
| --- | --- |
| Feel | Like a button-down shirt, percale sheets feel crisp and smooth. |
| Thread Count | Percale sheets usually have a tight weave and a thread count of at least 200. |
| Breathability | Because of their crisp, lightweight feel, percale sheets tend to dissipate heat. Most percale sheets are made with breathable materials, such as cotton, for additional temperature regulation. |
| Durability | Percale sheets use a fairly tight weave, making them strong and durable. Percale sheets also tend to get more comfortable over time because they soften with each wash. |
| Ease of Care | Sleepers can easily care for their percale sheets by machine-washing and drying them. However, cotton percale sheets are prone to wrinkling, so some sleepers may prefer to iron their sheets after laundering. |
| Price | The price of percale sheets varies based on quality and material, ranging from less than $50 to more than $500. |
How Are Percale Sheets Made?
Manufacturers make percale sheets by weaving threads in a one-over, one-under pattern. Most manufacturers make percale sheets using cotton threads. However, the cotton itself comes in many varieties, including Egyptian cotton, Supima cotton, and American Upland cotton. Options differ in staple lengths, quality, and origins. Less frequently used materials include rayon, polyester, and other semi-synthetic or synthetic fibers.
Cotton Percale
Many manufacturers use cotton in their percale sheets because its breathability complements the lightweight weave. The combination also creates a smooth yet strong fabric.
Manufacturing processes and types of fibers vary. For instance, some manufacturers use brushed cotton, lifting the fibers to soften the sheets. Others use combed cotton, removing short fibers that jeopardize the feel and durability.
Staple length, or the length of the individual cotton fibers, also affects the texture and lifespan of sheets. Longer staples usually equate to higher quality.
Standard cotton: The staple length of standard cotton is 1.125 inches or less, exposing more fiber ends. Because of this, standard cotton is traditionally less smooth and more inclined to wear and tear. However, it is also more affordable.

Long-staple cotton: Long-staple cotton is approximately 1.125 to 1.25 inches. Fewer fiber ends are exposed, thereby increasing the softness and durability of the resulting sheets.

Extra-long staple cotton: Measuring up to 2 inches, extra-long staple cotton (ELS) varieties are typically the softest and most durable options on the market. Varieties of extra-long staple cotton include Egyptian and Pima.

Which Percale Cotton Sheets Are Best?
The best cotton sheets generally come from the three types of high-end, extra-long staple cotton: Egyptian, Pima, and Supima.
Egyptian cotton: Egyptian cotton grows along the Nile River and is picked by hand, which gives it a premium price-point. Many manufacturers blend Egyptian cotton with lower-priced materials for a more affordable product. Accreditation from the Cotton Egypt Association verifies that the material is true Egyptian cotton.

Pima cotton: Pima cotton is a slightly more cost-effective extra-long staple variety. While it originated in Peru, it's now more widely cultivated. Like Egyptian cotton, manufacturers often combine Pima cotton with other varieties to cut costs.

Supima cotton: Supima cotton is a brand of Pima cotton grown exclusively in the U.S. under strict quality standards. Because of the additional requirements for growers, Supima cotton is usually more expensive than Pima cotton, though it's slightly more budget-friendly than authentic Egyptian cotton.

Organic Cotton Percale
When cotton percale sheets are labeled organic, the term often refers to the individual materials rather than the final product. Sheets may contain organic cotton but use chemicals in the manufacturing process, thereby yielding non-organic sheets.
To verify that your organic cotton percale sheets are truly organic, check for certifications. Global Organic Textile Standard (GOTS) certification indicates a product meets social and environmental standards for the cultivation and manufacturing processes. USDA organic certification has a narrower focus, indicating that the cotton was cultivated using organic crop production standards.
Additional Percale Fabrics and Blends
Some percale sheets include fabrics or blends other than cotton. Common cotton alternatives include rayon from bamboo, cotton and polyester blends, lyocell, or microfiber. In many cases, such materials lead to lower price-points. However, the performance and quality vary. Percale sheets that use lyocell or rayon from bamboo often feel especially cool and smooth. Polyester and microfiber options also frequently feel soft and lightweight, but they tend to trap more heat.
Last Tips for Percale Sheets
When looking for the best sheets for you, there are several things to keep in mind about your percale options.
Choosing Your Thread Count: Although percale sheets should have a minimum thread count of 180, the optimal range is 200 to 300. Some brands advertise sheets with thread counts of 400 or higher. While this can be an indication of quality, it's also frequently a marketing ploy. Overly high thread counts may mean that the manufacturer uses multi-ply threads to increase the thread count without improving the quality. If the listed thread count is over 600, proceed with caution.
Selecting Quality Materials: Consider certifications, materials, and origins when choosing percale sheets. Certifications such as GOTS or USDA indicate that a third party has verified that the sheets meet rigorous standards. Sheets made from longer-staple varieties of cotton also usually boast higher quality and durability. One type of extra-long staple cotton, Supima, is grown in the U.S. according to rigorous guidelines, ensuring its quality. However, it's worth noting that any product marketed and sold in the U.S. is required to meet these guidelines.
How to Make Percale Sheets Softer: New percale sheets may feel too crisp or scratchy at first. While they do tend to soften over time, it's possible to speed up the process by washing your sheets several times, line drying them, or using a reusable wool dryer ball.
Avoiding Wrinkles in Percale Sheets: Most percale sheets are made of cotton, which can wrinkle easily. To minimize this tendency, remove your sheets from the washer as soon as possible and line dry them if you can. Otherwise, tumble dry them on a low setting and remove them promptly from the dryer. You can also iron cotton percale sheets to remove any lingering wrinkles.