The Sleep Doctor independently selects the products we test. We may earn a commission if you make a purchase using the links on our site.
Back pain is common, affecting around 80% of people at some point in their lives. This condition involves aching, throbbing, or other unpleasant sensations in the muscles, bones, and other parts of the back. Back pain can range from mild to severe, potentially impacting daily activities as basic as walking and working. Even sleeping with back pain can be a challenge. Luckily, along with a supportive mattress, using the right pillow can help to alleviate back pain.
We'll review our top picks for pillows for back pain and delve into how to choose the best one for your particular body type and sleep position. We'll pay particular attention to loft and firmness, two key pillow characteristics for improving support and promoting spinal alignment. You'll then be ready to choose a pillow that works with your unique sleep needs so you can manage back pain and get some rest.
Fill Material: Shredded Talalay latex and down alternative

Firmness: Medium Soft

Price: $165
Airy microdenier fibers mimic the plush feel of down
Responsive shredded Talalay latex cradles the head and neck
45-day sleep trial allows for risk-free testing
Sleepers looking for a balance of plushness and support
Those who want a pillow that can be molded and shaped
People allergic to real down
The Saatva Latex Pillow offers sleepers a luxurious, high-end feel alongside ample support for the head and neck that promotes spinal alignment. A best-of-both-worlds mix of down-like microdenier fibers with bouncy, shape-retaining latex gives the Saatva Latex Pillow broad appeal among side and back sleepers,especially those looking for relief from back pain.
The Latex Pillow's organic cotton cover with a sateen weave is breathable, moisture-wicking, and smooth to the touch. Side gussets crafted with contrast welting help maintain the pillow's shape and give it a classic look. A zipper allows for easy washing.
A removable inner pillow is filled with plush down-alternative microdenier fibers for softness, and a core of shredded Talalay latex for responsive support. Both materials are breathable to enhance air flow. Sleepers can adjust the pillow's firmness and loft by removing the inner pillow, taking the height from a maximum of 8 inches to a minimum of 2 inches.
During testing, the Saatva Latex Pillow was a good fit for our side and back sleepers under 230 pounds. These testers were impressed with the pillow's conforming capability and shape retention, allowing them to mold the pillow for a more customized fit.
The Saatva Latex Pillow is available in both King and Queen sizing. Saatva offers shoppers a 45-day trial period, free shipping to the contiguous United States, as well as a one-year limited warranty.
Fill Material: Shredded memory foam core with down alternative microfiber outer chamber

Firmness: Medium

Price: $75
Adjustable loft adapts to different sleep positions and body types
Core of shredded memory foam conforms to curves
Down-alternative microdenier fill for plushness
Side and back sleepers
Sleepers looking for customizable loft
People seeking a pillow that's a mix of comfort and support
Featuring premium materials, adjustable loft, and superior moldability, the Silk & Snow Pillow is an all-around performer. Underscoring this adaptability is a reasonable price-point that puts it within reach of more wallets. Sleepers looking for back pain relief without breaking the bank can find a lot to like in its adjustable softness and support.
The Silk & Snow Pillow has a washable, gusseted cotton cover for breathability and shape retention. The outer shell is filled with airblown down-alternative microdenier fibers that give the pillow a fluffy plushness. An inner core of shredded memory foam provides support and relieves pressure points as it conforms to the head and neck. Sleepers can remove as much or as little of the memory foam as they like to match their sleep needs.
During testing, back and side sleepers gave the Silk & Snow Pillow excellent ratings, noting that the adjustable loft allowed for a customized fit. While slightly less impressed, stomach sleepers, especially those under 230 pounds, found the pillow offered enough support to maintain spinal alignment after adjusting to a lower loft.
Silk & Snow shoppers can choose from either a standard or king size pillow. The company offers free shipping to the contiguous United States as well as a 100-night sleep trial and three-year warranty.
Sweet Zzz Plant-Based Pillow
Fill Material: Plant-based down alternative fibers

Firmness: Medium

Price: $135
Plant-based fill has a plush feel akin to down
Dual-chamber design balances support and contouring
Machine-washable
Side and back sleepers
People who enjoy the feel of down but prefer products that are not sourced from animals
Hot sleepers
The Sweet Zzz Plant-Based Pillow is a down alternative pillow that offers the luxurious feel of down without the animal sourcing. The plush construction felt comfortable for a wide array of sleepers during our tests.
The pillow is filled with vegan plant-based fibers in a dual-chamber design. The inner chamber is composed of denser fibers to generate strong support. The outer chamber contains fibers with less density, giving the surface a soft, fluffy feel with strong pressure relief. This balance of contouring and support earned the pillow high marks with the side and back sleepers on our team. The medium loft allowed the pillow to fill the space between the neck and bed surface without cranking our heads up too high.
Hot sleepers should feel comfortable on the Sweet Zzz Plant-Based pillow, thanks to the cool fibers and breathable cotton cover. This pillow also has a moldable feel that's ideal for sleepers who enjoy squishing and snuggling their pillows. You may machine wash the pillow in cold water on a gentle cycle, then tumble dry on a low setting.
Sweet Zzz offers free shipping to addresses in the contiguous U.S. You'll receive a 50-night sleep trial and 1-year warranty.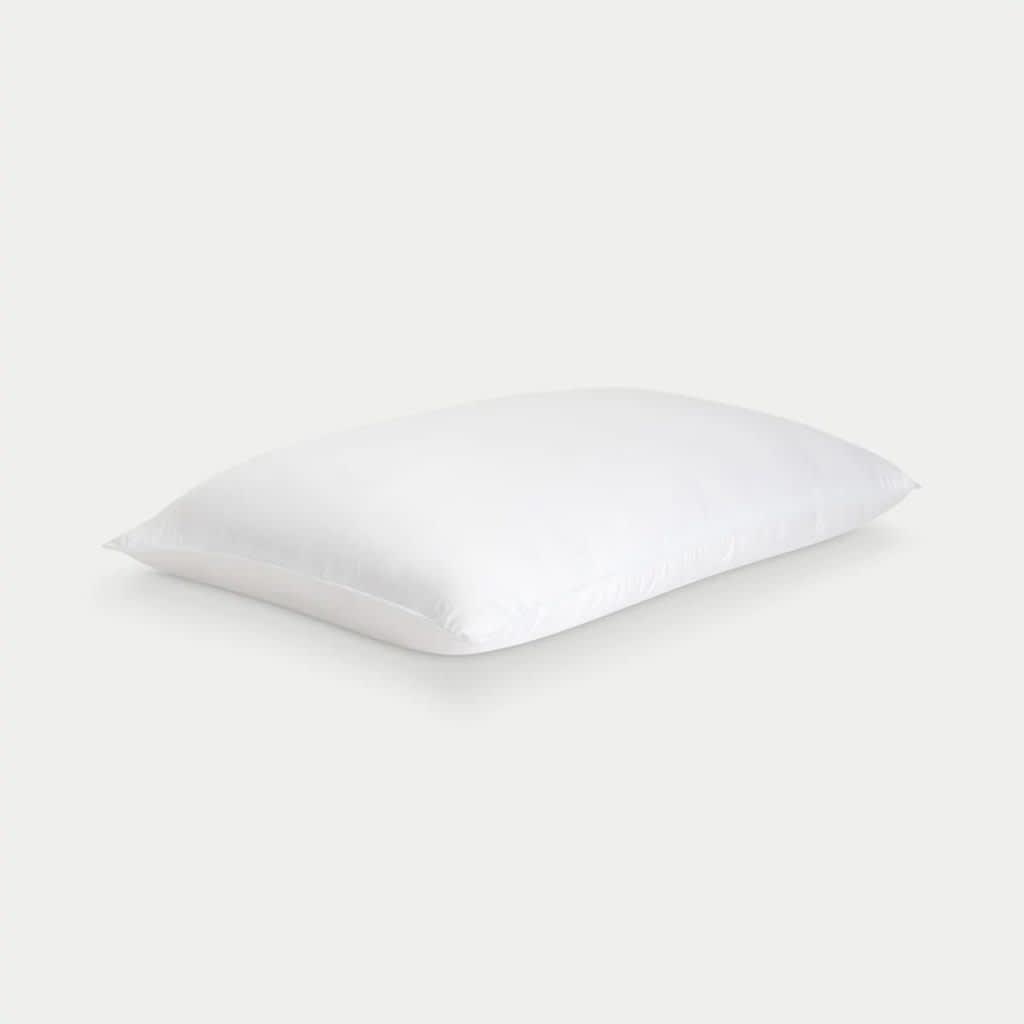 Fill Material: 100% long-strand mulberry silk

Firmness: Medium soft

Price: $279
Viscose cover has the look and feel of silk with the versatility of cotton
Long-strand mulberry silk fill is highly breathable, durable, and moldable
Transparent supply chain backed by socially responsible production techniques
Those seeking a high-end pillow that balances comfort with performance
Side sleepers under 230 pounds and back sleepers under 130 pounds
Sleepers that run hot
High-end materials in the Cozy Earth Silk Pillow balance exceptional softness with conforming comfort that lifts the head and neck for proper alignment. The combination makes the pillow an effective choice for back pain and creates an overall feel that's satisfyingly luxe.
The fabric shell is made of smooth, breathable viscose from bamboo that efficiently wicks away moisture. The mulberry silk fill is similarly soft, with natural thermoregulating capabilities that help it sleep cool. The pillow's medium-soft firmness and sculptable silk fibers make it an ideal pillow for molding to a sleeper's exact needs.
Overall, our testers appreciated the sleekness of the viscose cover and the pliability of the silk fill. The pillow worked best for side sleepers under 230 pounds and back sleepers under 130 pounds. These testers found the pillow offered just-right loft and support for proper alignment. While side and back sleepers over 230 pounds gave the pillow slightly lower scores, the highly shapeable fill did somewhat counteract the softer feel.
The Cozy Earth Silk Pillow is available in either a standard or king size. It comes with a 10-year warranty and can be returned or exchanged for free within 100 days of purchase.
Eli & Elm Cotton Side-Sleeper Pillow
Fill Material: 75% Latex and 25% Polyester Fiber

Firmness: Medium, Adjustable

Price: $131
Notched shape accommodates shoulders while supporting the head and neck
Effective mix of comfort and support from the polyester and latex fill
Adjustable fill allows for customizable loft and firmness
Side sleepers
People seeking an ergonomic design with room for the shoulders
Those looking for a mix of airy comfort and lightly conforming support
The unique shape of the Eli & Elm Cotton Side-Sleeper Pillow is designed for the specific needs of side sleepers. A central notch accommodates the shoulders while the middle third provides cervical support for the head and neck.
Beyond its ergonomic shape, the pillow uses OEKO-TEX Standard 100 certified safe materials in both its interior and outer shell. The cover is made from a blend of cotton and polyester plus spandex for stretch. It's soft, breathable, and has enough stretch to fit easily around the Side-Sleeper Pillow's unique shape.
The pillow's fill features a mix of 75% latex noodles and 25% polyester fibers, combining latex's gentle contouring and the airy softness of down-alternative fibers. Sleepers can add or subtract as much of this fill as necessary to achieve their desired level of firmness and loft.
Unsurprisingly, our side sleeping testers gave the Side-Sleeper Pillow top marks, citing its position-specific construction and a fill optimized for both comfort and responsive support. Less expected was how well the pillow fared with our back sleeping testers weighing less than 230 pounds, who found that the pillow contoured closely to their head without tilting it uncomfortably.
Fill Material: Shredded memory foam and kapok tree fiber blend

Firmness: Medium Soft

Price: $109
Kapok fibers are light and plush for a cloudlike feel
Shredded memory foam offers responsive support without retaining heat
Removable fill lets sleepers adjust the loft to their needs
Those who tend to sleep hot
Combination sleepers
People looking for an affordable, natural alternative to down
The Layla Kapok pillow features the fibers of the kapok seed, an alternative to down with a slightly plusher, more robust feel that's similar to silk. Paired with shredded memory foam under a breathable cover, light and airy kapok fibers in the Layla Kapok Pillow provide a trifecta of airflow, comfort, and support.
Made from a blend of copper-infused polyester and viscose, the Layla Kapok Pillow's cover is designed to disperse heat and promote airflow. Inside, shredded memory foam offers responsive support without trapping body heat, and the open structure of the kapok fibers creates breathable loft. A zipper allows sleepers to add or remove the pillow's fill according to their specific sleep needs.
The Layla Kapok Pillow's above-average temperature neutrality already makes it a good choice, especially for those who tend to sleep hot. Its adjustable loft and superior moldability significantly expands its audience. It worked well for the majority of our testers across sleep positions and body types, performing especially well for side and back sleepers under 230 pounds.
Layla shoppers can expect free shipping within the contiguous United States, a 120-night sleep trial, and a generous five-year warranty.
Brooklyn Bedding Luxury Cooling Memory Foam Pillow
Fill Material: Open-cell memory foam

Firmness: Medium

Price: $129
Open-cell memory foam cradles the head and neck
Pin-core ventilation pairs with a gel surface infusion for temperature regulation
Sleepers can choose from two loft heights
Stomach and combination sleepers
Those looking for the deeper contour of solid memory foam
Hot sleepers
The Brooklyn Bedding Luxury Cooling Memory Foam Pillow uses the contouring capability of memory foam to support the head and neck, increasing spinal alignment and relieving pressure points. With a medium firmness and two loft heights, the Brooklyn Bedding Luxury Cooling Memory Foam Pillow is a flexible pillow that is complemented by responsive support designed to ease pressure and align the spine.
The cool-to-the-touch cover of the Luxury Cooling Memory Foam Pillow has a circular knit that's soft and breathable. The pillow itself is made up of open-cell memory foam that's pin-core ventilated for increased airflow. It also incorporates copper-graphite that's meant to wick away heat. A gel surface infusion adds further cooling capability.
Two versions of the pillow with different lofts allow sleepers to choose their best-fit option. During testing, the 4-inch low loft model earned superior marks from our stomach sleeping testers. Its low profile and responsive support helped ease pressure points in the neck, a key advantage for stomach sleepers. The 5-inch high loft version worked better for our side sleepers.
The pillow is available in both queen and king size and comes with a three-year warranty. Brooklyn Bedding customers enjoy free shipping within the United States.
Why You Should Trust Us
We've personally researched and tested hundreds of pillows to bring you our top picks for back pain. Our team of testers has years of experience in the sleep products industry. They also represent a range of sleep positions and body types so our reviews are not only backed by expertise, but also representative of a diversity of viewpoints. It's all done with the goal of helping you select the best pillow for your sleep needs.
Back pain is a broad term that refers to a number of sensations that cause discomfort in the muscles, bones, discs, ligaments, and tendons of the back. Pain may be sharp or dull in intensity, get worse with movement, or flare up in certain positions. Back pain can be acute or chronic, resulting from a variety of causes including age, weight gain, injury, poor posture, and under or overuse.
The structures of the back are needed for many basic activities like standing, walking, and turning. This means back pain can be disruptive to many aspects of daily life, including sleep, especially since it impacts over 80% of people at some point in their lives.
How Do Pillows Affect Back Pain?
Finding the right type of pillow can help to prevent or manage back pain. Matching your pillow's firmness and height to your body type and preferred sleep position helps keep your head, neck, and spine in proper alignment. Proper spinal alignment is important to avoid the unhealthy postures that contribute to back pain.
Choosing the Best Pillow to Help With Back Pain
Choosing a pillow with a loft and firmness that complements your sleep position can help manage back pain. The loft and firmness you need for healthy spinal alignment looks different depending on whether you're a side, back, stomach, or combination sleeper.
Pillow Height (or Loft)
A pillow's loft is how thick or tall it is. You may also hear it referred to as the pillow's height or profile. Pillows typically have a loft of between 3 and 6 inches. Your sleep position plays a key role in choosing between a low, mid, or high loft pillow.
| Sleeping Position | What Pillow Loft Do You Need? |
| --- | --- |
| Side Sleepers | Side sleepers need a higher loft pillow that can fill in the space between their neck and shoulders and lift the head away from the sleep surface. |
| Back Sleepers | A mid-loft pillow works best for back sleepers. This mid-range height keeps the head from resting too low or too high which can lead to pressure points in the neck and spine. |
| Stomach Sleepers | Low loft pillows are a good choice for stomach sleepers who require just enough height to maintain alignment and provide some cushioning. |
| Combination Sleepers | Mid-loft pillows generally work well for the shifting positions of a combination sleeper. Combination sleepers may want to choose a higher or lower loft depending on their most frequent sleep position. |
How Firm Should Your Pillow Be?
Like loft, firmness is also an important factor when selecting a supportive pillow. Pillows generally range in firmness from soft to extra firm. The right firmness level takes into account your preferred sleep position and individual preferences.
| Sleeping Position | What Firmness Do You Need? |
| --- | --- |
| Side Sleepers | Medium to firm, or even extra-firm, pillows work well for side sleepers who need a significant amount of support to ensure their head remains lifted up and away from their shoulders throughout the night. |
| Back Sleepers | Back sleepers benefit most from a medium to medium-firm pillow that supports the natural curves of the neck and head without creating pressure points. |
| Stomach Sleepers | Soft to extra soft pillows are a good choice for stomach sleepers. Firmer pillows can raise the head too high, shifting the spine out of alignment. |
| Combination Sleepers | Combination sleepers should stick with a mid-range firmness that accommodates various sleep positions, choosing a softer or firmer pillow if they tend to sleep in one position longer than others. |
Support and Keeping Your Spine Aligned
In pillows, support is a function of both loft and firmness. When we talk about how supportive a pillow is, we're referring to how well the pillow's loft and firmness work together to align the spine. Finding a pillow with the right level of support for your personal needs is a key component of avoiding back pain.
The right level of support varies from sleeper to sleeper and depends on two factors: body type and sleep position. Lightweight stomach sleepers require a much different level of support than do heavier side sleepers. You'll want to take both weight and size as well as sleep position into consideration when determining the level of support that works best for you.
What Type of Pillow Is Best for Back Pain?
There is no single pillow that works best for back pain as the right choice depends on an individual's unique needs. In general, it's best to match the loft and firmness of a pillow to a person's body weight and sleep position. The best pillow is both comfortable and supportive, aligning the spine as it cushions the head and neck.
However, it's worth noting that some types of pillows are usually more supportive than others. Those that use solid or shredded memory foam or latex typically have more of the responsive support that helps relieve pressure points and ease pain. Adjustable loft pillows can also be a good option as they allow for a more customized fit and can adapt to a sleeper's needs over time.
Specialty Pillows to Alleviate Back Pain
Traditional rectangular pillows can work well for back pain, but there are other shapes and sizes that offer targeted support. Using these specialty pillows instead of, or in addition to, your regular pillow can be another way to alleviate back pain.
| Specialty Pillow Type | Description |
| --- | --- |
| Lumbar Pillow | Lumbar pillows are shaped like long, thin rectangles. They're designed to fill the concave space at the base of the spine where the additional support can allow the muscles of the lower back to relax. |
| Cervical Pillow | Similar to lumbar pillows, cervical pillows or rolls fill the concave space between the base of the neck and head for added support. They can either be stand-alone or incorporated into a more traditionally shaped pillow. |
| Curved/Shaped Pillow | Curved or shaped pillows usually have ergonomically designed notches, divots, or rolls meant to accommodate the shoulders or cradle the neck and head. Their special shapes help maintain alignment. |
| Wedge Pillow | These triangular pillows can be placed under the knees for pressure relief or behind the back or sides to maintain a desired sleeping position. |
| Body Pillow | Body pillows are usually several feet long and can be used both as large bolsters to prevent rolling or as a "huggable" pillow that runs between the knees and curves beneath the head. |
| Pregnancy/Maternity Pillow | U-shaped pregnancy pillows curve all the way around the body, offering both body pillow options at the same time: a bolster to promote side sleeping as well as a knee, neck, and head support system. |
How to Reduce Back Pain While Sleeping
Tailoring your pillow selection and placement to your sleep position makes a difference in reducing pressure points that contribute to pain in your lower back, neck, shoulders, and hips. These small additions and modifications to your sleep environment can improve alignment and may reduce pain.
Side Sleepers
Besides ensuring that they have a pillow with enough loft and firmness to fill the gap between their shoulders and head, side sleepers should also consider placing a pillow between their knees. Lifting the upper knee away from the lower knee takes pressure off the lower back, allowing those muscles to relax.
Back Sleepers
Back sleepers typically need a pillow with mid-level firmness and support that keeps their heads and necks in a neutral position. They might add a wedge pillow or bolster below their knees for extra support. This can relieve tension in the lower back.
Stomach Sleepers
A softer pillow with a low profile helps keep the heads of stomach sleepers from tilting too far up, creating a pressure point at the base of the neck. Depending on their mattress, they may also want to place a pillow below their hips for added support.
Last Tips for Dealing With Back Pain
In addition to selecting a pillow that offers optimum levels of comfort and support, there are several other changes sleepers can make to find relief from back pain.
Find the Right Mattress: Just like with pillows, using a supportive mattress that works with your body type and sleep position to maintain spinal alignment can make a meaningful difference.
Overhaul Your Work Space: Spinal alignment shouldn't stop at your pillow and mattress. If you work at a desk for most of the day, make sure your computer, chair, and worktop are ergonomically optimized.
See a Doctor: For acute or chronic back pain, it's always best to see a doctor. They can look for the cause of back pain and recommend exercises and other therapies that can help alleviate pain and improve spinal health over the long term.